Today I went for my 1-hour GTT (Glucose Tolerance Test). First of all, for whatever reason my doctor sent me to a different lab than the last GTT I had in the first trimester. So that was confusing and a waste of my time. I went to Qu.est first and the lab order was for L.abC.orp. Okay, so whatever. I drive to the correct place (which is literally across town, whereas the other is closer).
I get my nasty drink, which burned my throat, thanks to my cough that I've had for over a week. So the faces I was making had nothing to do with the drink itself, just the fact it hurt! Ha ha! I couldn't even taste it because of the burning sensation.
And I did fine with it. It didn't make me feel lightheaded, queasy, or anything. But it sure did make Zoe dance! She really liked it.
Well when you have to sit there for an hour you get to do some fun people-watching. I'm a people-watcher. My husband can't take me out on a date without me, at some point, spacing out and watching everyone else in the restaurant but him. Poor guy!
First characters that came in were confused and had a problem with their insurance and a previous lab. They asked if this lab would take their insurance. They fill out the new patient form. Only to be told, "We can't do your work without a lab order from your doctor for this particular lab". Wife got on the phone for 20 minutes to her doctor's office only to storm out, her husband in tow. I felt REALLY bad for them because she really needed the test done and they'd apparently been trying to smooth this out all morning but her doctor's office wouldn't fulfill the request to fax over a lab order.
Second character to come in blew me out of my socks! They wanted to pay the phlebotomist "under the table" with cash to do a test without a lab order from a doctor. This was how it played out:
Weird Lady- "Can I just give you $100 to test me?"
Phlebotomist- "I need an order from your doctor, do you have one?"
Weird Lady- "What? You can't just test me? What if I have some disease and I just want to pay to find out? Why do I need an order from a doctor?"
Phlebotomist- "Here is a number you can call to talk with someone about that. There's nothing I can do."
Lady takes the number and looks at it like it's a snake about to bite her. Throughout this the lab lady was very pleasant and helpful. So Weird Lady turns away and before she stalks out the door she snarls to everyone in the waiting room, "Don't ever, ever come here! That woman was so rude last time I was here and she's just a huge B----!" Then she cackled and flung the door open to leave.
Wow, I had to bite my tongue. I felt bad for the phlebotomist. Everything she did was legal and right and the lady acted like she was done a disservice. There's a reason they need a doctor's order. The lab people don't give you results- a doctor does! If you don't have a doctor, you won't get your lab results.
♥
Finally an hour passed and a different lady at the lab took me back to get my blood drawn. I felt bad for this person, too. You see, she asked me about being pregnant and how my little girls feel about becoming big sisters. She asked me all their names and referred to Zoe by name. Then she confides in me, "I've been trying for 4 years. Did it take you a long time to conceive this one?"
My heart just broke!
I told her it did take a long time and mentioned how I was diagnosed with PCOS, took Clomid, got pregnant and miscarried and then got pregnant again. She's currently on her 5th Clomid cycle and is about to throw the towel in. I did not catch her name (I'm so bad at that!) but please remember her in your prayers.
What really stood out to me was that I would've never guessed she was trying to get pregnant. She showed no animosity toward me, a pregnant woman. She didn't make me feel bad or guilty for being pregnant when she has been trying for so long. She was so pleasant and genuinely wanted to hear how I became pregnant, especially after I mentioned the PCOS (she was recently diagnosed with it).
I think I gave her hope because I have PCOS like her, did Clomid like her, and I did end up pregnant. When I left she had a smile on her pleasant face, though I know part of her was hurting. It has to be hard to see pregnant women come and go at the lab, taking tests that she probably wishes she was taking.
♥
I have no idea what the GTT results will be in (probably by Monday?! I was too involved in the personal conversation with the lab lady that I didn't ask). But I feel I did great and I'm not worried about it!
♥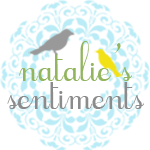 Also, check out
Natalie's blog
for a FANTASTIC GIVEAWAY!!!!!!!!!!!!!!!!!!